I did a lot of research on what beauty subscription I wanted to do. I asked feedback from friends and asked for opinions on Beautylish.com The resounding answer was IPSY. In all honestly I had never heard of it. SO I checked out the site http://www.ipsy.com/ and decided, what they heck..looks good. The main reason, it seemed, that so many recommended IPSY was because the items sent are somewhat customized, and the sizes were pretty decent.
The first thing I pulled out of the package when I got it was a makeup brush..
This brush alone retails at Walgreens, for close the amount of what the monthly subscription to the IPSY Beauty Bag amount is...$10.00. I love make up brushes and let me tell you..this brush is so soft, it has an ergonomic handle and is very easy to hold. There isn't a 'pro' brush I can compare it to, i.e.; MAC, Sedona Lace, Sigma, etc. because I don't use them. Not that I don't want to, I just can't see myself paying so much for brushes. I know, I know...you get what you pay for..well my cheap ones work out just fine.
The next item I received was a sample size of Josie Moran 100% Argan oil. At $48.00 a pop for a full size bottle, I was NOT complaining...
I had heard a lot of hype about this type of product, but was kind of skeptical..and then I used it and was like, "OH BABY!!!" This stuff is great! You can use it on your dry ends, as a cuticle oil, a bath oil or a moisturizer (safe for the face). Since I have such dry, sensitive skin on my face, I figured that's where I would use it first. Only a couple of drops were needed and it left my face feeling so soft, smooth and hydrated and as a bonus, there was no smell or greasy, oily feeling after. I was in love. Now I just add a drop or two to my face and body moisturizers and we are in business! The only drawback is that a bottle of this DOES cost $48.00 or more. Now, since I am an AVON rep, I ordered a bottle of the Skin So Soft Signature Silk Perfecting Oil which contains Argan oil, but is not 100%. I am interested to see how it works and compares to this product. And hey, if it works, $12.99 compared to $48.00 is icing on the cake!
Next was a hand lotion, about the size of what you would get at Bath and Body Works, the ones that are like 3 for $10.00 or something like that. Actually it is a bit bigger. It is the Pacifica Tuscan Blood Orange Body Butter.
If you don't like a strong citrus scent, you will not like this. But if you do (like me) then you will probably love it. The scent is really strong at first, but mellows quickly. However, the mellow scent is long lasting. The buttery consistency, as the name suggests, is wonderful. Easy to smooth into the skin and is very moisturizing. For me, any moisturizer that leaves an oily, greasy or sticky residue will kill it for me. Luckily, this product does not do that. YAY!! If you love a citrus smell, I definitely recommend this product.
One product included in this shipment was one I have been wanting to try, but again, price was an issue.
What I got was a 1.5 oz can of Big Sexy Hair Stay and Play hairspray. I was actually quite excited to see this product in my bag, again, because I wanted to try it. When I did, I loved it, but realized that it was pretty much the same as the Beyond the Zone Frozen Stiff hairspray. The scent was the same, as were the results. I felt it was pretty much the same product..maybe some slight differences, but not enough to make or break either product.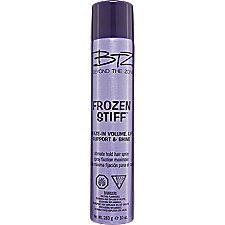 A full size can of Big Sexy retails at Ulta retails for $17.50, while Frozen Stiff retails at Sally Beauty Supply for around $9.50. So, since these are essentially the same product, in my opinion then I will stick to the frozen stiff..but if you want the Sexy brand..then by all means, spend the extra $8.00.
In the nail department, I received in the shipment a bottle Nailtini nail polish in a classic red, reminiscent of Pin-up girls.
Since I just did my manicure, I have yet to try this product. But I will say this is my absolute FAVORITE shade of red nail polish and can not wait to try it out. An online search of this product averaged the retail price of about $13.00, including tinibeauty.com the product's website. This site also carries lines of Liptinit and Hairtini. Now, for me, I think $13.00 is a bit much for nail polish; however, Since a bottle of Orly or O.P.I can be upwards of $10.00, it's kind of on the fence. Depending on the coverage of the product, the staying power, whether it chips, cracks or bubbles will be the deciding feature for me. I will say that this exact shade of red is sometimes difficult to find and when you just HAVE to have this certain color..well as they say, beauty is pain (as in paying $13.00 for a bottle of nail polish!)
All in all, I am quite pleased with the shipment I got. It was full of great products in decent, if not full, sizes in a quality bag. I believe my research paid off, and word of mouth is always the best advertising! I encourage you all to subscribe, or, at the very least, stop by http://www.ipsy.com/ and check it out.
As always, Love you guys and stay beautiful!!
https://www.facebook.com/ElizabethGlam77
http://www.avonrepresentative.com/clear6676
https://twitter.com/#!/ElizabethGlam77
http://www.youtube.com/user/ElizabethGlam77
http://pinterest.com/mselizabeth6676/
http://www.tumblr.com/blog/elizabethglam77
http://www.avonrepresentative.com/clear6676
http://www.sallybeauty.com
http://www.tinibeauty.com/
http://www.pacificaperfume.com
https://www.walgreens.com